---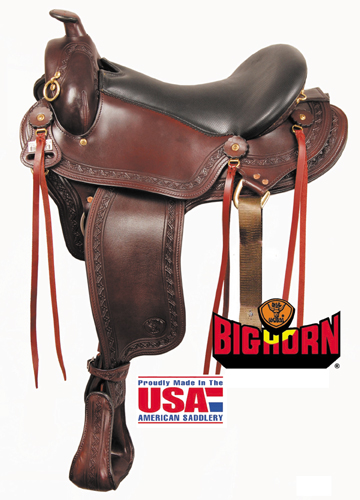 Now you can better fit your Western Gaited saddle to your horse with two options in the Big Horn Western Gaited saddle. The AO1684 is built on a Medium BH Western Gaited Flex tree, while the A01686 is built on the Wide BH Western gaited flex tree. Both versions feature Sil-Cush™ and come in 16", 17" and 18" seat sizes. Available colors are Number #2 brown and Black. Note: Black comes with Stainless Steel hardware while Number #2 Brown comes with brass hardware.
Big Horn Western Gaited
No. AO1684 - Medium in 16", 17" and 18" seats.
No. AO1686 - Wide in 16", 17" and 18" seats.
Tree: BH Medium or Wide Gaited Western flex tree
Gullet width: Dermined by choice of saddle.
Weight: 30 lbs
Horn: Height 3", Diameter 2 1/4", Leather Covered
Cantle Height: 4"
Skirt Length: 26" for 16" saddle - 27" for 17"saddle
Skirt Width: 13"
Stirrup Leathers: 2 1/2"
Stirrups: Leather-covered Visalia
Rigging: Stainless steel 3 1/2" ring
Finish: Black with stainless steel
or #2 Brown with brass.
MADE in the USA.
Matching Accessories
Headstall No. AO3500 Breast Collar No. AO3503