---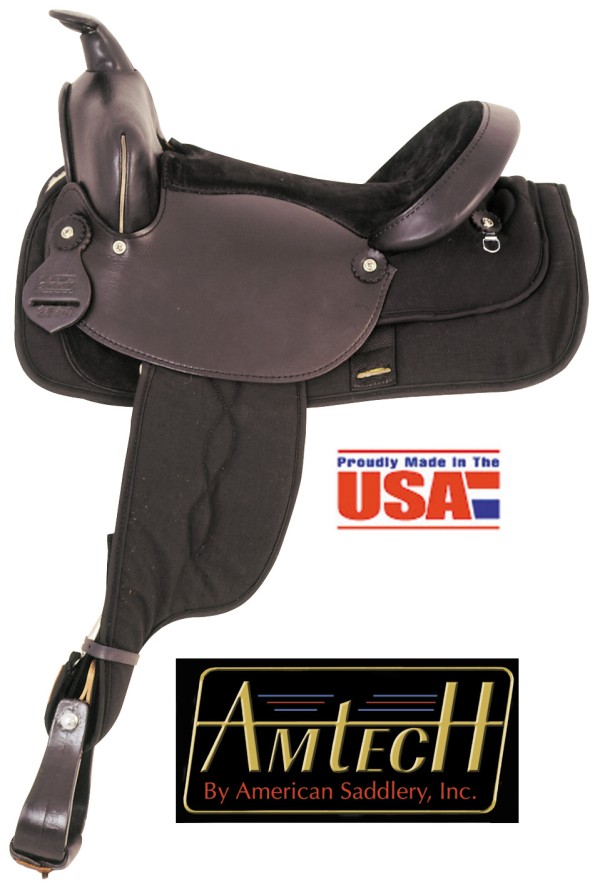 Stainless steel dees and leather rigging are securely attached directly to the Amtech Pleasure Tree and the skirts and fenders are covered with durable nylon. With leather front, jockey, cantle and padded suede seat - as well as the suede leather overlays - you've got a saddle that's made with your rider in mind.
Round Skirts No. 385  15" seat
Square Skirts No. 385-1 15" seat
Available in Black or Brown specify when ordering.
TREE: Ralide®;
WEIGHT: Approximately 21 lbs.;
COLOR: Black or Brown
SEAT: 15 Inch
HORN: Height 31/2", Diameter 2", Leather-covered;
CANTLE: Height 5";
SKIRT: Length 28";
STIRRUP LEATHERS: 2" Nylon with leather reinforcements, all metal Blevins buckles;
STIRRUPS: Visalia with leather footpad;
RIGGING: Stainless steel dees in 7/8 position.
Made in the USA.