---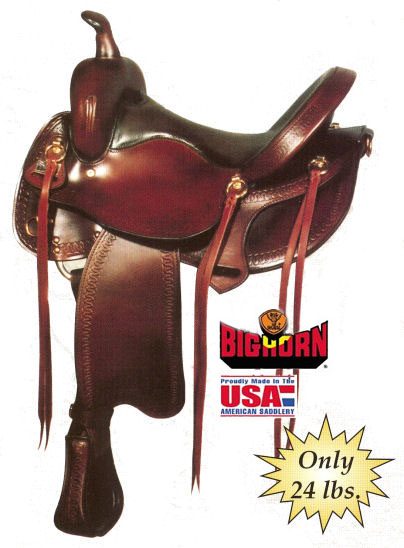 No.A01691
17" padded grainout seat.
No.A01690
16" padded grainout seat.
Tree: Steele Co. Tree with quarter Horse Bars.
Cantle Height: 5"
Seat: 17" grainout Padded Seat.
Horn: 3" X 2 1/2".
Gullet Width: Medium Plus.
Gullet Height: 6 1/2"
Rigging: Stainless steel double C.
Skirts: 25 Inch, butterfly cut with wool felt skirts lining. Wool felt skirt lining offers natural shock absorption, padding and moisture absorption.
Fenders: Boot cut with nylon stirrup straps.
Stirrups: Leather covered Visalia 4 1/2" tread.
Finish: #2 Brown
Trim: S-pattern border tooling with solid brass hardware and saddle strings
Weight: 24 lbs.
Made in the USA
Matching Accessories
Headstall: A03499
Breast Collar: A03494