---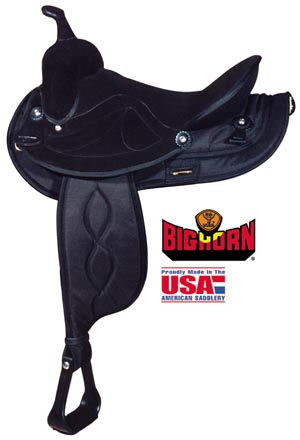 Something for everyone!
These Big Horn saddles come in Black or Brown and in seat sizes from 12" pony all the way to a 17" seat.
Roughout Suede Leather Seat, Roughout Suede Front, Cantle Binding, & Horn, Quilted Roughout Suede Seat Jockeys–Not Fabric!, Synthetic Fenders and Skirts–Quilted, Not Laminated!, Lightweight–Three lbs. Lighter Than Our Other Synthetic Saddles, Very Affordable!
The 13" and 14" youth saddles are designed to be ridden on a full size horse–it is not a pony saddle. The fender is shorter and narrower (15" x 6") to better accommodate a younger person.

No. A0497 –Brown, 12" Pony
No. A0498 –Brown, 13" Seat
No. A0499 –Brown, 14" Seat
No. A0500 –Brown, 15" Seat
No. A0501 –Brown, 16" Seat
No. A0502 –Brown, 17" Seat

No. A0597 –Black, 12" Pony
No. A0598 –Black, 13" Seat
No. A0599 –Black, 14" Seat
No. A0600 –Black, 15" Seat
No. A0601 –Black, 16" Seat
No. A0602 –Black, 17" Seat

Tree: Ralide® 13" barrel front, quarter horse bars.
Cantle: 4".
Seat: 13"–17" padded suede seat & jockeys.
Horn: 2 1/2" x 2 1/2".
Gullet Width: Medium Plus (except pony).
Gullet Height: 5 3/4" (except pony.
Rigging: 7/8 position single front stainless steel dee.
Skirts:
(12") 19" x 9".
(13" & 14") 22" x 8".
(15"–17") 25" x 12".
Fenders:
(12") 11" x 5 1/2".
(13") 13" x 6".
(14") 15" x 6".
(15"–17") 17" x 7 1/2".
Stirrups: Ralide® with laced suede cushioned foot pad.
Finish: Brown or black Synthetic with black binding.
Trim: synthetic nylon skirts, housings and fenders, leather conchos; suede front, cantle binding, and horn.
Weight: 15 lbs.

Made in the USA

Matching Accessories
Headstall No. A06501
Breast Collar No. A06503 (1")
Breast Collar No. A06509 (2")